Sale
Simplified
Homeschool Planner
Regular price
$64.00
Sale price
Sale $40.00
Unit price
per
We are thrilled to partner with our friends at Other Goose to bring you The Simplified Homeschool Planner. Created alongside Erin Loechner (founder of Other Goose), this undated planner was designed to serve and support our community of friends who embark upon the wonderful and unique journey of homeschooling. After traveling the world and searching for an all-inclusive classroom that valued play, freedom, and structure, Erin discovered the solution in her own (literal) backyard: homeschooling. Together we intentionally designed this planner to include daily lessons, reading lists, weekly meal plans, and more in the signature simple, pretty, and easy-to-use format of our classic Simplified Planner line. The Homeschool Planner is undated and covers 12 months (with Monday - Friday lesson-planning spreads) and features a sturdy, gold wire-o binding, a light blue inside liner, an inside pocket, 5 sticker pages in the back, and luxurious 80lb., pure white paper throughout. The perfect companion as you seek to focus your days on what really matters in your homeschool journey.
Shipping Info & Return Policy
View full details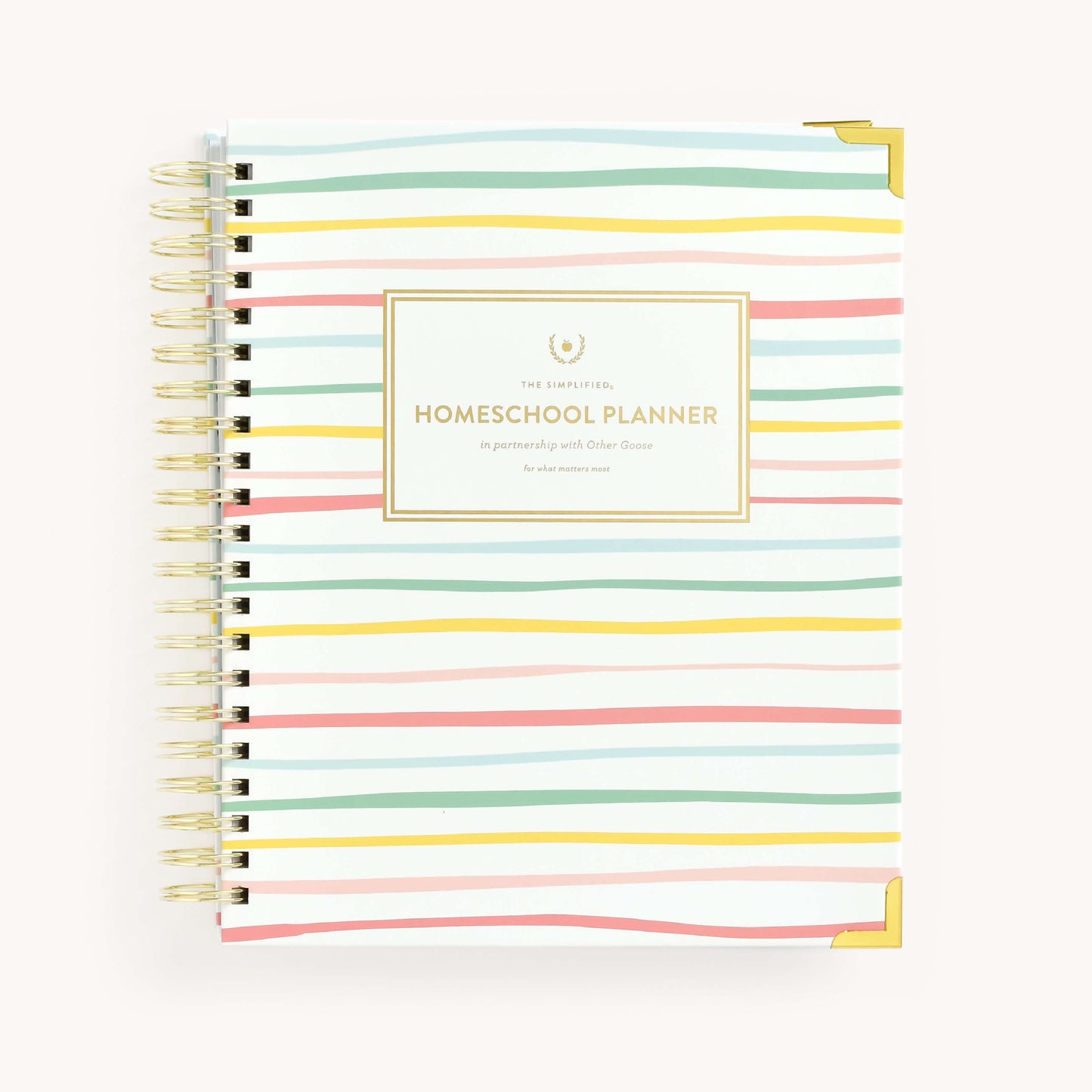 Looking forward to using this next fall! I love that there are personal goal pages for different children. And having a blank calendar is wonderful since we don't always start when traditional schools begin.
Great quality and I'm so excited to use this planner for the fall!
Perfect homeschool planner for two kids
I love the amount of space this planner has. It's visually appealing and well organized. Has a spot for everything I need and the layout works great for multiple kids.
Love The Planner, Would Love To See Another Edition Too
Great planner overall for homeschooling. All of the extra pages - booklists etc are perfect. I would love to also have a vertical edition (you're doing it now for the weekly Dapperdesk- Awesome - so pretty please.. I'd also love to have all 7 days of the week, 365 days a year as I teach year round. And a small gripe, I wish it had a prettier cover. Gingham, blue pinstripe, pink pinstripe, a classic. Or maybe a new cover yearly to look forward too? I feel like pretty covers are central to Simplified's DNA!
Perfect Planner for our Homeschool
I cannot say enough great thing about the new homeschool planner! I've used several others in the past and even created my own hodge podge trying to find a solution that worked for our season/style of home educating. I have used the Daily Planner for several years and figured the homeschool planner would be complimentary. It is! I love the many ways I can make it my own as well as the simplicity of the lay-out. It's durable and a great size. It's also great quality (as usual). We are headed into our 3rd week of school and I'm excited to continue using it to keep me organized!